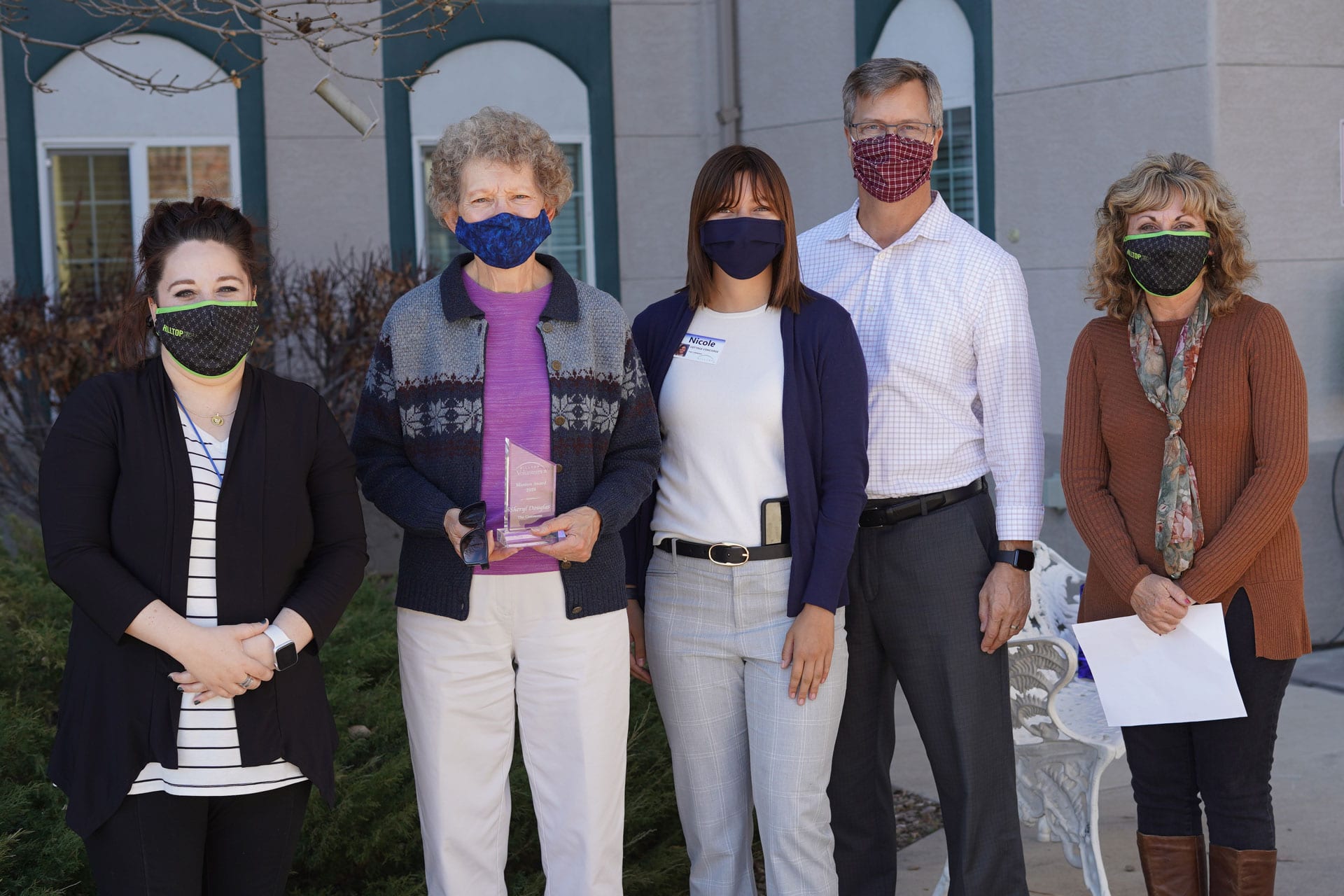 Sheryl Douglas, Volunteer Mission Award Recipient – The Commons
Sheryl Douglas has been a volunteer for the Commons since December of 2017. She became interested in volunteering for Safe Haven after she worked as caregiver for a resident in the Memory Care Wing.
Sheryl enjoys helping during breakfast time in Safe Haven. She will serve residents, sit with them, and entertain them while staff serves breakfast. She even helps clean the kitchen. Sheryl has helped in activities and takes time to spend with each resident one-on-one. All of the things Sheryl does is great, but it is her presence and compassion, that make her such a deserving recipient of this mission award.
Staff say that she is awesome at interacting with our residents and has a sweet and calm personality, which is perfect for our resident's needs. She is always willing to help and is just such a special person.
Nicolle Pineda, Life Enrichment Coordinator, at the Commons adds, "It takes a special person to volunteer with seniors, especially in memory care. It is not glamorous, but I never had any doubt that Sheryl could handle the task. She has a true passion for our residents, and for both honoring and respecting their dignity. This is a quality that cannot be taught or learned, it is innate and just a part of who she is. Our team and residents are so lucky and beyond grateful to have Sheryl as a part of our Safe Haven family."
When COVID-19 restrictions prevented her from serving in the facility, Sheryl decided she would help deliver meals to Commons cottage residents. "Since COVID-19 prevented me from volunteering at Safe Haven, in the Commons, I gladly accepted the opportunity to deliver meals to the cottages. It makes me feel good and the residents appreciate it," says Sheryl. Sheryl delivers meals every Thursday. She also has provided shadowing experiences for new volunteers interested in helping with meal delivery.
"Sheryl embodies Hilltop's value of relationship in the way she helps others in need. Whether it is our residents, staff, or other volunteers, she instinctively knows how her role impacts the lives of those around her. I am happy to have Sheryl as one of our volunteers because I know she is dependable, caring and honest, especially when sharing feedback that can help improve resident services. Even with the turmoil caused to our resident's lives by COVID-19, Sheryl continues to serve as a calming presence in a sea of uncertainty," says Sheryl Click, Manager of Volunteer Services.
It is for all of these reasons that Nicolle and I have nominated her for this special recognition.